Funeral Flowers - The Veil that Softens The Blow
Posted on November 16 2017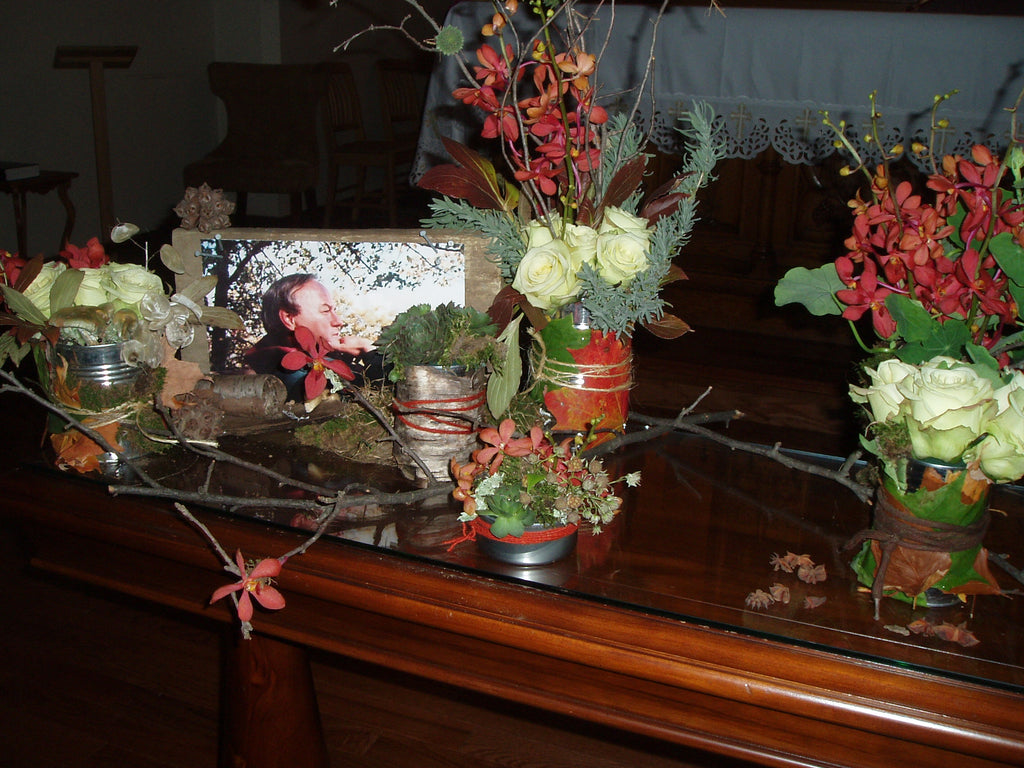 Sadly, in 2012 just as I began the process of opening my shop I lost both my father to ALS and my Grammy to a heart attack in less than a month apart. I have never been more happy about being a florist than during that difficult time. The pain of both losses was greatly cushioned by the important job that lay ahead of me of creating meaningful and very personal flowers to celebrate such two amazing people.
The day after my Dad died I found myself numbly wondering around his garage, looking at all his toys, memorabilia of his 30 year beyond loved career with Levac's Supply, the calendars of half naked women promoting the latest drill or tool (the hell with political correctness he'd say).  Various  projects that would now fail to be completed.  My Christmas tree being stored in the rafters that at one time I crammed through his front door and into the living room adorned with garland made from his giant roll of Alcan tin foil and topped off with the wheel mechanism from a clothes line, (the year he didn't have a tree).  Memories flooded in by seeing various objects or even locations within the garage where important, funny and sometimes stormy conversations took place. I then turned to his workbench (which is now the front counter in my shop), there was nothing better than snooping in those drawers! I would often find interesting pencils, pads of paper, the most amazing Levac's Supply pens that seemed to get me through all of grade 12, at the time was famously among my girlfriends  coined "The Script Writing Pen", we all had them, my Dad couldn't keep them.. they always seemed to disappear on him.
On this day in his drawer I came across a shoe lace, a single lonely shoe lace, I wondered where his twin ended up? I put the shoelace in my pocket as the concept for his floral tribute was starting to take shape. At the time I was developing my use of string and tin cans in my design work. The shoe lace reminded me of this and then I decided that nothing could be more masculine, industrial (like his work) and meaningful that using items found on his property for the flowers. I turned to the recycling bins in the garage, a job that he took very seriously, it was full of tin cans of different sizes, "perfect", I took those too. I then set out to his property in search of other treasures, I went straight to the large patch of moss growing under the old maple trees, we would often have heated debates about said moss… to kill or not to kill. It was not grass so there for must meet the Round Up, I begged him to give up the chemicals and to spare the moss for me and my work!! He thought it funny… "What are you going to do with it??'  I dug my fingers into the cold soil and began rolling back the moss filling my fingernails with dirt and my nostrils with the fresh sent of earth. I continued from there looking for interesting branches and foliage, everything was so beautiful in its prime of fall October 18th. I had most of the items I needed, cans, a shoe lace, moss, branches and foliage.
At this point we had made arrangements for my father's cremation and decided that there was no more an appropriate urn then the coffee pot from the Middle East he received as a gift years earlier, this is where he kept his matches and it rested on the top of the TV Stand. We had to empty his matches to bring it to the cremation centre. Inside were relics of the past, hotels, cigarette brands, bars and even a few books with naked ladies from the 70's.. in true Jack Stenson style. So, now we had the urn and the flowers , what about a portrait to go along with the display? I went back to the garage, I couldn't stand the thought of his photo in some boring picture frame, I needed industrial. I looked around at everything and then turned to a stack of random lumber. I found a perfect piece of beaten up board and a second piece that I could attach to the bottom to make it stand up. I took the pieces next door to seek the help of my Dad's neighbour Jay.  His face was a very specific shade of grey/ green that can only be called "Grief", something I had never seen before. He said very little to me as he made the "frame" my Dad's photo would soon be nailed to. Jay was one of the closest people to my Dad, he was so destroyed that he couldn't attend the mass and celebration that took place the next day.
I had almost everything I needed, I took all of my treasures with me and headed back to the city to find some flowers. I stopped in at Trugs on Brock St to see what they had. I was in luck as a flower truck just pulled up. After explaining to my fellow florist why I needed the flowers instead of making the sale for their shop they encouraged me to buy off the truck directly. I then found some amazing green roses and some burgundy arachnid orchids.When I got home I laid out the collection, the cans, the wood block frame, I can't remember now what item I used to represent his urn but, it was funny at the time. I worked quietly and lovingly wrapping each can with moss, leaves, shoe laces and string. I filled each can with the treasures from his property, each one was more beautiful than the one before. When I was finished I had created the most beautiful masculine and natural still life in the history of me. Later that evening I brought them to my family church and set them out arranging the cans, the frame, some naturally placed branches while leaving a space for Dad's old match pot that would join the flowers the following day.
Focusing so intently on my work and creating something worthy of my Dad, something that he would even say "wow.. that's really cool" (he wasn't a man to shower you with praise but this, I knew he would go on about.) allowed me to feel the loss at a slower and softer pace as the flowers always stood between us and kept me focused on celebrating his life and not the loss.